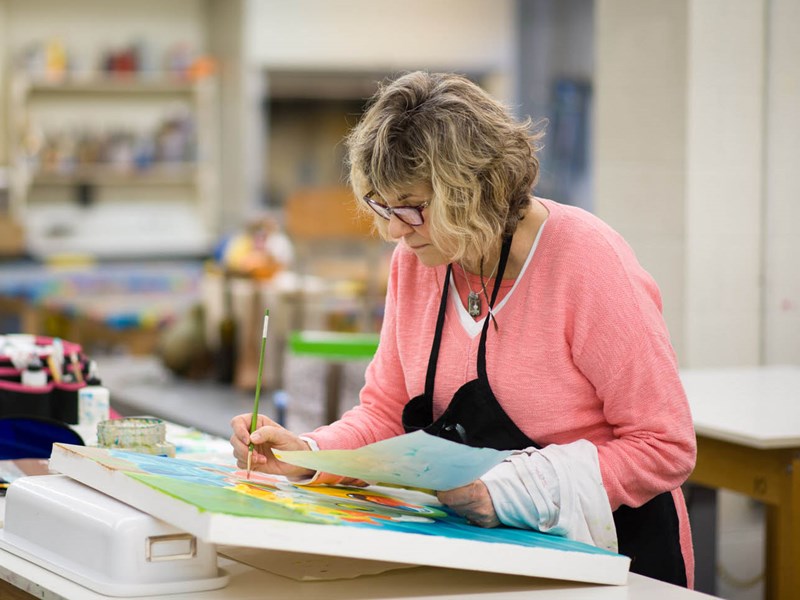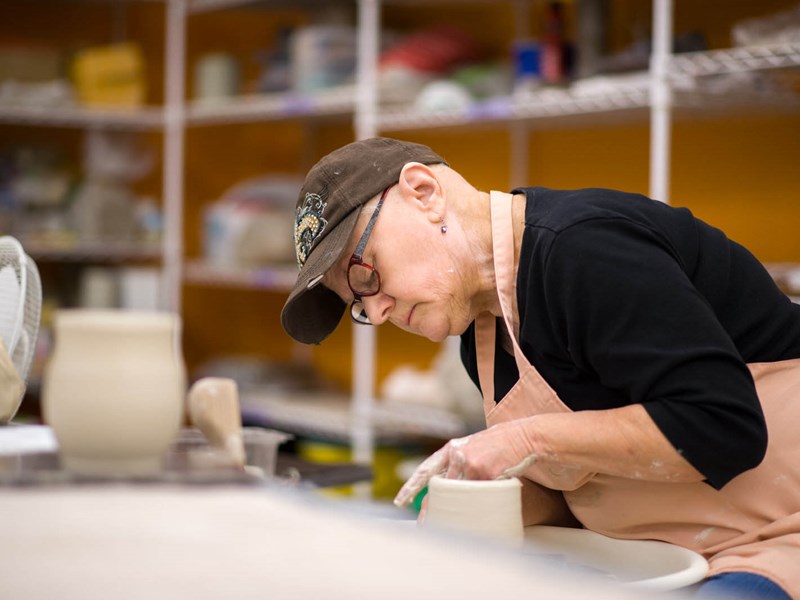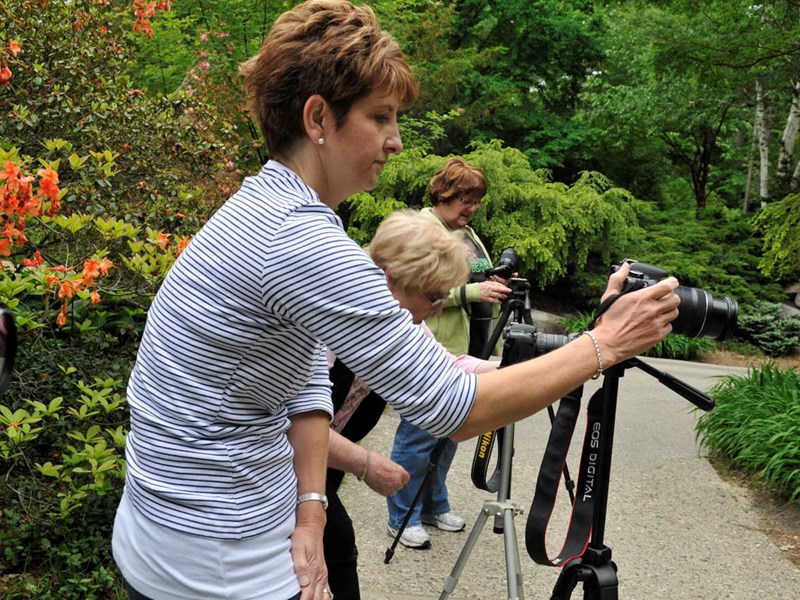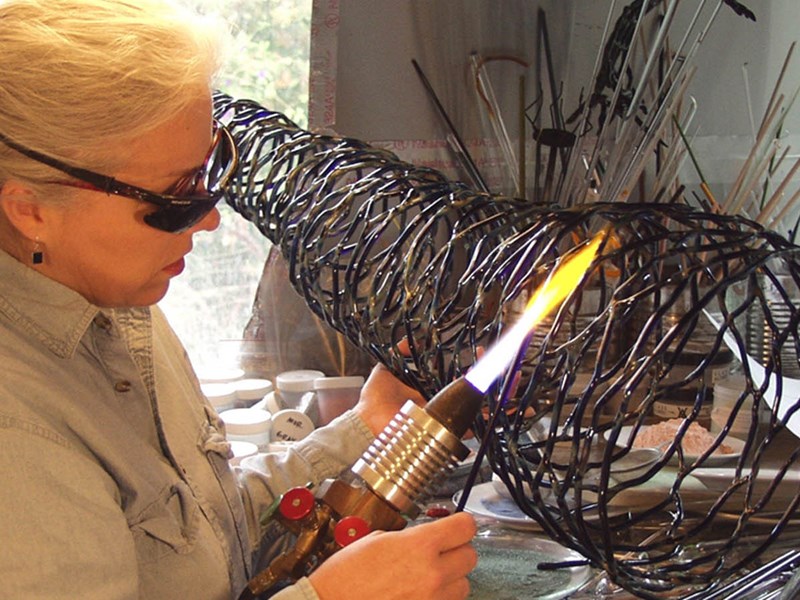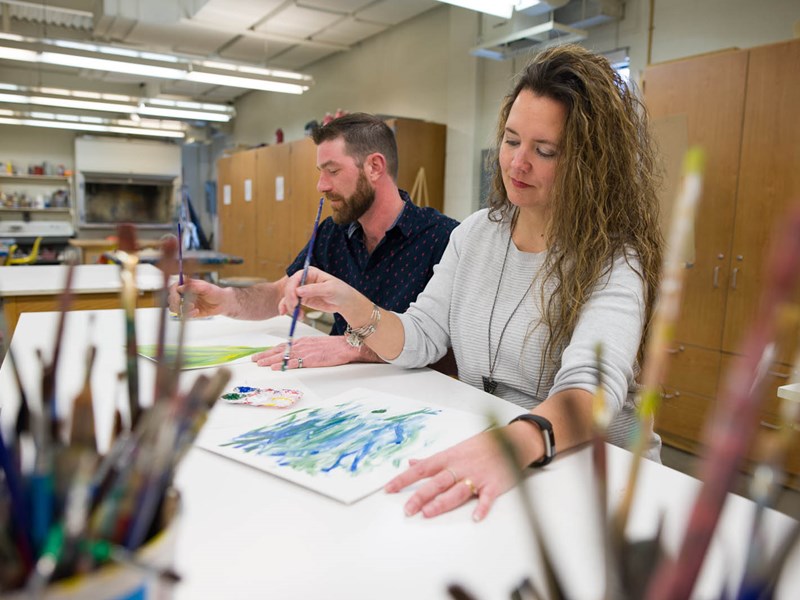 Art, Science & History
Summer Classes for Adults
Our roster of professional artists bring fun, skill-developing classes for adults to begin and advance within multiple art forms including drawing, painting, photography, ceramics, jewelry, mixed-media and more.
Bethany Thomas started working in Clay at Kent State University where she received her BFA under Kirk Mangus. Kirk gave her a deep appreciation for the human connection with pottery. As a result, she most enjoys making functional works of art (such as dishware, cups and tea pots) that are sure to be enjoyed in intimate settings of family and friends around a table of delicious food.
Thomas also spent time in Cincinnati working at Queen City Clay with Ben Clark, where she continued to grow her skill set, be a part of a few gallery shows, and learn how much she loves teaching.

Pamela Hart is a ceramics artist with fifteen years of experience in the medium. Pam started working with clay after twenty years as a music teacher and then a number of years as a stay-at-home mom. She has studied with several different instructors at the Midland Center for the Arts Studio School as well as attending workshops with nationally recognized experts. She is in her sixth year of teaching adults at the Midland Center's Studio School. Her portfolio includes sculptural pieces, functional pieces, and pieces used for worship. She has exhibited regionally and has had her worship pieces exhibited as far away as California. Her pottery can be found in a number of local collections. Her worship pieces are used in local churches as well as the chapel of Wisconsin Lutheran College in Milwaukee.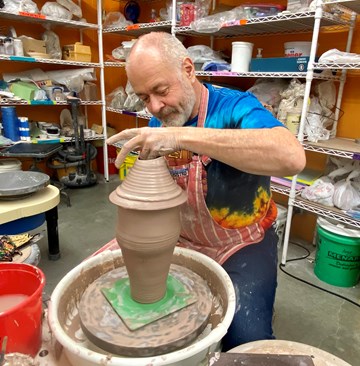 In 2016 Mike Zureich took a leap of actively vulnerable faith back into the visual arts after a 37-year hiatus. He loves and seeks opportunities to blend his diverse backgrounds, experiences, and perspectives together into ceramic sculptures that exemplify experimentation, innovation, creativity, change, positive energy, passion, enthusiasm, vulnerabilities, spatial form relationships, contrasts between; light and dark, texture, shape, size, tone, and color, drawing, painting, sculpting, engineering, mathematics, and life's experiences.
Since 2017, he's been in over 30 juried exhibitions, a three-person exhibition (Three Rivers… One Source) at Creative 360, and a solo exhibition (Actively Vulnerable) at the Art Reach Gallery.
Mike learned to "throw on the potter's wheel" at Ypsilanti High School in the mid-1970s. He developed his artistic skills while completing a Bachelor of Fine Arts degree at Eastern Michigan University, studying ceramics under Susanne Stephenson and, John Loree, and graduating with a double major in fine arts and, mathematics along with a K-12 teaching certificate. He earned a master's degree in industrial technology, with an emphasis on CAD/CAM, at Eastern Michigan University. He taught high school mathematics and, middle school mathematics, computer science and, after-school Art Club, has been a CAD/CAM software developer and, resource manager with Electronic Data Systems (EDS)/Unigraphics/Siemens for nearly 25 years and, worked as a resource manager for GalaxE.Solutions in Detroit before beginning a career at the Dow Chemical Employees' Credit Union in Midland. His actively vulnerable creative journey is at a full speed ahead pace, stay tuned…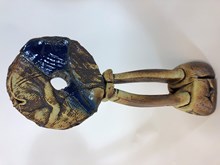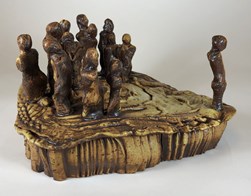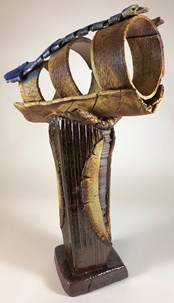 Tim Ricketts took a class at Midland Center for the Arts in 1971 and continues his association today as an instructor. He received his Bachelor of Fine Arts degree from Northern Michigan University in 1979. Attending workshops and national clay symposiums provides ongoing education and keeps him in touch with peers.  His personal artwork is produced in his studio at his home where he also conducts workshops. His work has been shown in local and state exhibitions.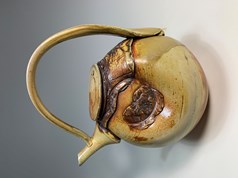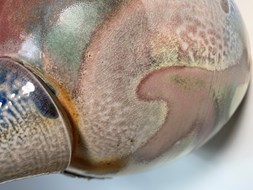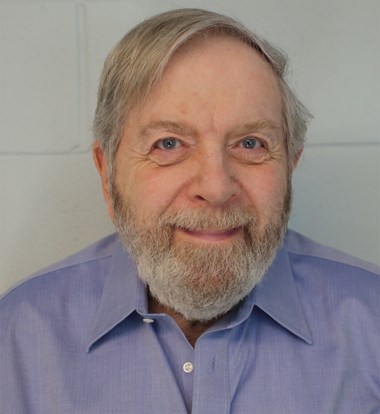 Born in Minneapolis and educated at the University of St Thomas (BA 1967 MBA 1977).  My 42-year career as an information specialist spanned punch paper tape and punch cards to networked and distributed data systems.  Starting with Assembler and COBOL, I finished working with SAP.  I worked on every brand of mainframe along with several brands of mini-computers.  My career started in Minnesota, took me to Texas, and finally finished in Southern California.  My wife; whose dad worked for DOW as a chemist, and I reside in Midland.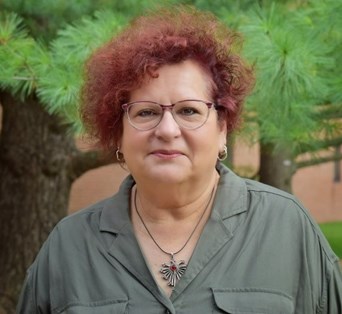 Artists daydream and see the world in colors and patterns all around them. I love to doodle, scribble, and sketch wherever my imagination takes me. I draw at home, traveling, wherever and whenever I happen to have a moment to disappear into my dreams.
Art Instagram: @sjcooner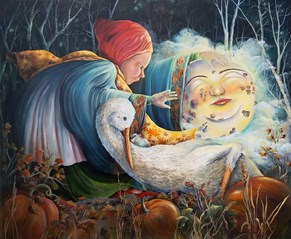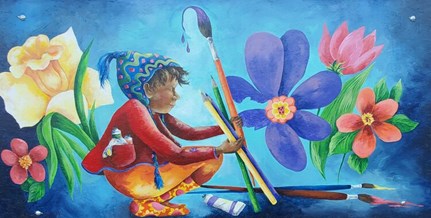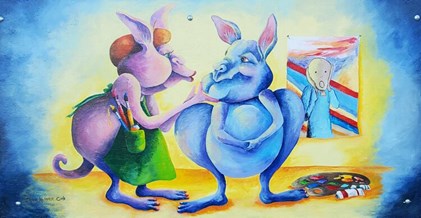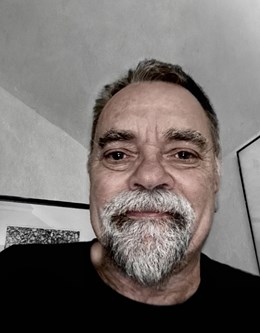 Armin Mersmann was born in Remscheid, Germany, in 1955. Along with his parents, he immigrated to the United States in 1962. He grew up in an artistic environment and was greatly influenced and tutored by his father, Fritz Mersmann, a successful oil painter.

Although Mersmann is mainly known for his intense naturalistic graphite drawings, he also works in photography, oil painting, collage and digital work, these works are much more about the idea of exploration than the drawings, but it's a wonderful balance. "My interests have become exceedingly experimental with more attention placed on the surfaces of the work itself. Discovering and rediscovering my chosen medium is the everlasting stimulus that keeps me interested and excited. Accidental process and meticulous planning co-mingle in all my work. Texture, either real or illusionary, and that one ever-elusive brushstroke, the one that says it all; this keeps me searching and exploring.

https://www.arminmersmann.com/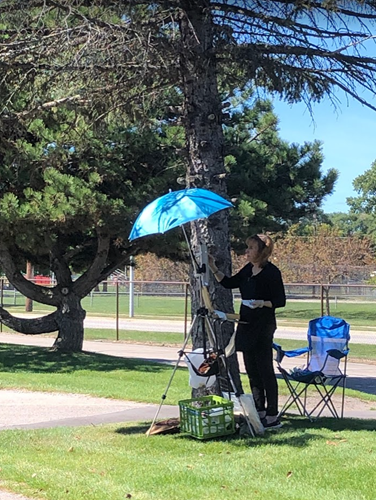 Ruth Howell graduated from the University of Michigan, School of Art and Design, with a BFA in drawing and painting. After graduation, she continued her studies at the Center for Creative Studies and began her career as a graphic designer, working in Detroit and in Saginaw, Michigan at Bradford La Riviere.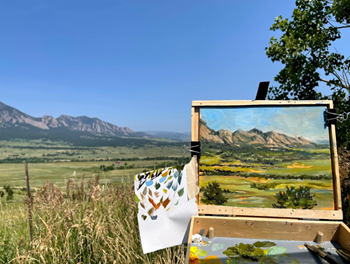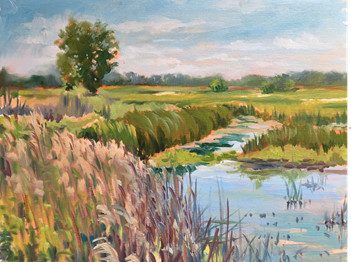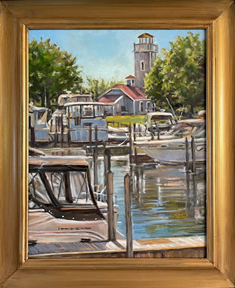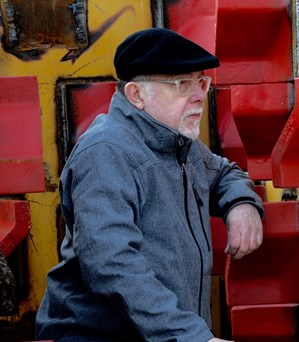 Some of my earliest memories are of chemical odors from my father's darkroom and his floodlights for family photos. I got a Kodak Duaflex when I was in elementary school. Since then I have been taking photos.
For the last twenty years I have been serious about photography. I discovered the magic of taking and developing black and white images. I progressed from a 35mm to a medium format camera. Ten years ago, I purchased an antique Linhof 4x5 view camera. It is now my primary camera. It helps me think more about composition and how I take pictures. I also have my own darkroom and do all of my own matting and framing.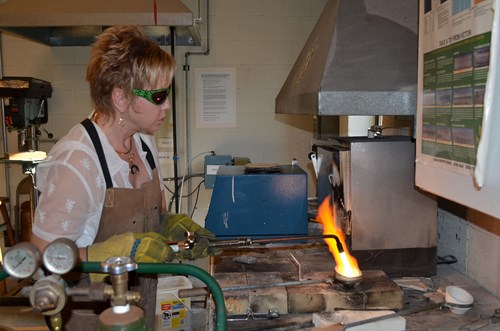 Sharon is a lifelong artist who has sampled a range of artistic mediums with an early focus on pen & ink drawing. She worked in advertising as a graphic designer and computer illustrator earning both international and regional awards for computer graphics. In her spare time Sharon continued to sample various art forms including working with textiles which involved doing hand beading on garments and clothing accessories. Not being happy with the durability of beading she decided to take a jewelry class at The Midland Center for the Arts to see if jewelry skills would improve her other work. This class was the beginning of a new area of concentration where she developed skills first in fabrication, then in the lost wax casting methods of creating jewelry. She took over instructing jewelry class in 1997 and has been teaching at The Center ever since. During that time Sharon's jewelry has been featured in a solo exhibit at Midland Center for the Arts and published in Art Jewelry Magazine as well as the book CAST.  While teaching she took advantage of classes being offered by other artists and enrolled in drawing classes taught by Armin Mersmann. Once again, an art class at The Center made a huge impact on Sharon's focus as she developed techniques in graphite pencil long-form drawing. While continuing to create and teach jewelry, more emphasis has been placed on drawing, which have been accepted into both regional and international shows. Sharon sells both her drawings and jewelry on her own website as well as an Etsy shop.
Roger's Qualifications include: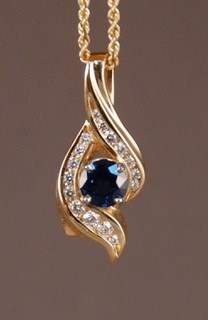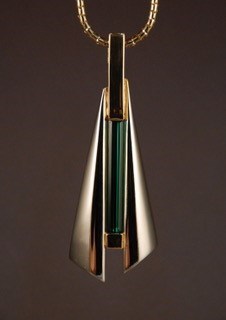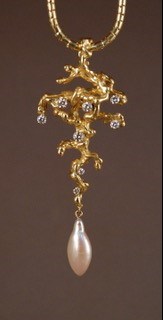 Glass Fusing & Quilt Making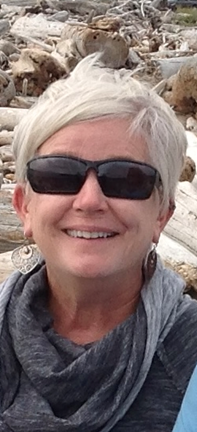 The fact that I work with fabric as a medium producing art quilts featuring animal life is no accident.  I have always loved to work with my hands and have always loved animals.  In art classes, I was drawn to making collage with whatever items I could find but mostly fabric.
I learned to sew as a very young girl. I was one of eight granddaughters. My grandmother attended a school where only French was spoken and where skills such as sewing and cooking were emphasized. She believed, as she was taught, that every young lady should be able to sew well. She taught me embroidery, basic weaving, mending and enough sewing to enable me to make clothing.   The other seven granddaughters were not interested and this became a wonderful way for me to spend one on one time with my grandmother. Today I create quilts, purses and scarves and other fabric pieces such as table clothes and table runners.  I love to dye and process my own fabric because I never know what the outcome may be. These unpredictable results can add an abstract touch to whatever I am working on.  I feel strongly that my accessories be made from materials destined to be discarded. So bags are made from anything from discontinued fabrics to sailboat sails about to be disposed of.  I shop for embellishments in resale shops and even old hardware stores.  I avoid sitting in front of the TV doing nothing at all costs.
My formal education is in interior design which is appropriate since I have always loved textiles.  I graduated with a Bachelor's degree in Interior Design from Wayne State University and received my Master of Arts degree from Northwestern State University of Louisiana majoring in textiles. I continue to work with interior design clients on a referral basis and teach fiber workshops at Midland Center for the Arts and Flint Institute of Arts.