Theatrical Opportunities for Seniors
Golden Guild, made up of passionate volunteer performers and technicians, takes entertainment straight to senior activity centers and residences and creates opportunity for connection through performing songs, skits, old-time radio programs, and comedy routines.

Golden Guild's vision is be a space where the arts community contributes to building a culture in which people are encouraged and enabled to live productively and with dignity through creating an inclusive space for volunteers and audience members.
Upcoming Performances
Golden Guild is currently booking performances for it's spring show, "Spring Has Sprung" for May and June 2022!
Booking a Golden Guild Performance
Golden Guild performs in area senior activity centers, residences, and care facilities in May, June, October, November, and December each year. Performances are approximately 35-45 minutes in length. Please contact Katie Miller at miller@midlandcenter.org for more information on booking a performance.

Golden Guild performances are free to the community; suggested donations to support the program are $50 for performances in Midland County and $75 for performances outside of Midland County.

Interested in volunteering with Golden Guild?
Golden Guild is open to anyone with a passion for performance and service to the community, regardless of experience. Individuals interested in performing and helping behind the scenes are welcome. Rehearsals and performances are mornings and afternoons on weekdays from September-December. For more information, please contact Katie Miller at miller@midlandcenter.org.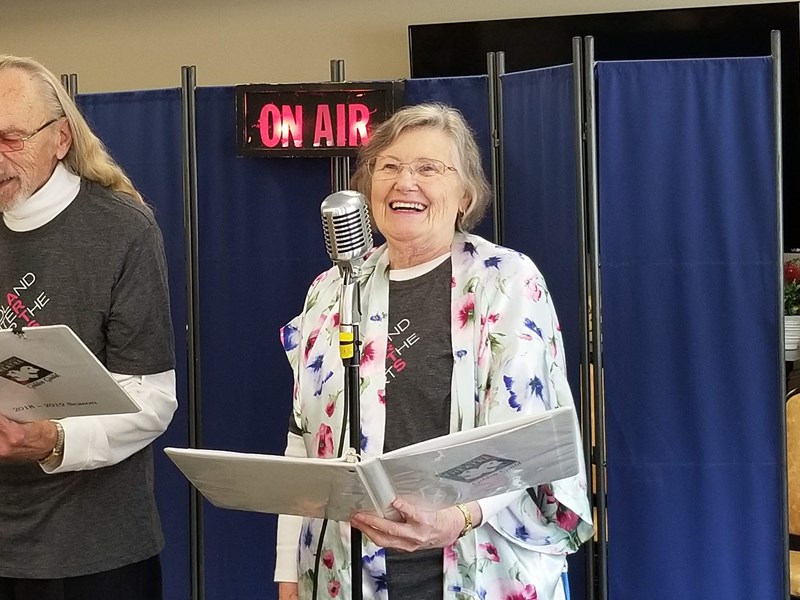 How It All Began
Golden Guild's premier season began in 2001 with an ambitious schedule that included two one-act plays - "The Diary of Adam and Eve" directed by Jan Huff (program coordinator Amy Behrens, assistant director Kay Driver), and "I'm Herbert" with Buster Harper and Ruth Stormer - and the Golden Guild Revue, an original concept created by JoAnn Pobocik and Tracey Kempsell.

Community volunteers return year after year as actors and technicians to bring live theatre to area senior citizen activity centers and assisted living and care facilities.

The joyful success of Golden Guild continues as multi-talented volunteers create annual programs filled with music and stellar performances. Creating fond memories of the days when radio ruled the airways, Golden Guild leaves its home at the Midland Center for the Arts to bring the excitement and fun of live theatre to community audiences.